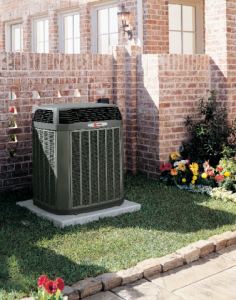 When the summer sun is beating down in Georgia, 4 Seasons Heating and Cooling is on the job! We are Middle Georgia's best choice for affordable, first-class cooling services and we take pride in a job well done. Whether the air conditioner needs to be repaired, maintained, or even replaced, 4 Seasons has an expert to handle all of your home cooling needs. Put your trust in a company that has the experience in servicing Middle Ga with reliable, honest, and budget-friendly cooling services.
Affordable AC Services
Tired of fighting with your finicky air conditioner? Take a moment to consider how you could benefit from a new air conditioning system from 4 Seasons Heating and Air Conditioning. High Cooling costs are a thing of the past with systems rated up to 25 SEER. Improve your comfort with the many ground-breaking technologies included in these Lennox systems. Our HVAC Specialist will make installing your new system as easy and as affordable as possible.
Dave Lennox Signature Series XP25 Variable–capacity, inverter controlled operation works much like the cruise control system of high performance automobiles, automatically making adjustments as necessary. In the XP25, cooling capacity automatically adjusts up or down, based upon cooling demand, to use only the precise amount of energy needed to maintain temperature within 0.5 degrees of your thermostat set point.
Quiet Operation
SilentComfort™ technology delivers sounds levels as low as 58 db, up to 50% quieter than a standard heat pump.
Silent Comfort™ Fan Grille uses patent-pending, vortex-suppression technology to reduce sound of airflow exiting unit, providing a quieter environment outside your home.
Insulated compressor compartment—minimizes operating sounds with innovative materials and industry-leading, vibration-isolating mounts
Home Comfort
Precise Comfort® technology adjusts fan speed, heat and airflow capacity in increments as small as 1% for the ultimate in temperature control
Climate IQ® technology modifies system output depending on geographical area to deliver greater comfort and humidity control
Variable-speed inverter controlled motor provides a quiet and consistent flow of air for an ideal balance of temperature and humidity in your home
Environmental Responsibility
Renewable energy resource—delivers environmental benefits when upgraded to a SunSource® Home Energy System that turns solar energy into electricity for your home
Chlorine-free R-410A refrigerant—provides exceptional comfort without exacting a costly environmental toll
Reliable Performance
PermaGuard™ Cabinet—heavy-gauge, galvanized steel construction, louver coil guard, baked-on powder finish and durable zinc-coated steel base provide long-lasting protection against rust and corrosion.
SmartHinge™ louver design—allows quick, easy access to interior components from all sides for cleaning and maintenance. Protects coils from damage and provides clean appearance